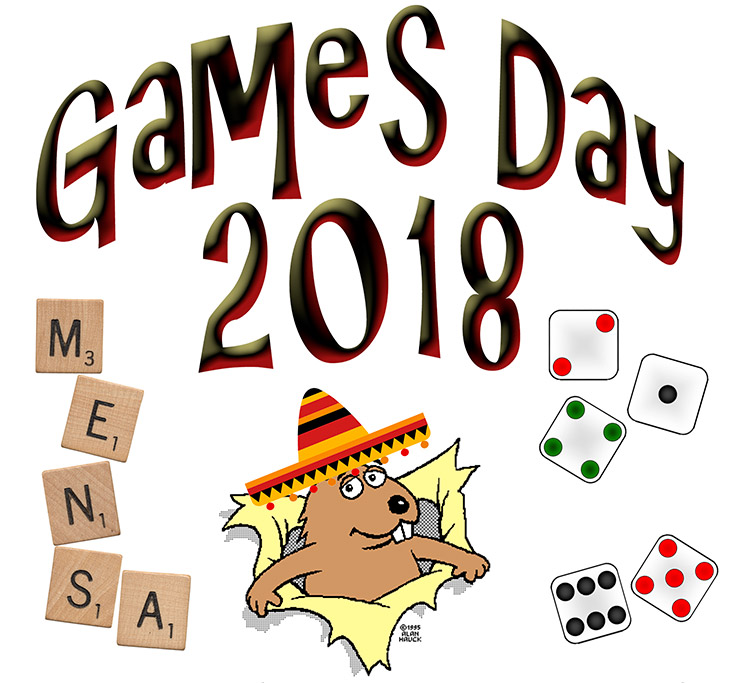 Saturday, May 5th, 2018
1:00 PM — 9:00 PM
Ramada Inn, Fishkill, NY
Mid-Hudson Mensa will be stocking our Game Room at the Ramada Inn with an assortment of games, snacks and soft drinks. Come for part of the day or the whole day. Feel free to bring along your family and any favorite game to share.
Best of all, admission is FREE!

Ramada Inn Fishkill, 542 U.S. 9, Fishkill, NY 12524
Our Games Day location is an hour drive or less for many of neighboring local groups in NY, NY, PA, & CT and the Beacon train station is close-by.
Registration is Now Open!
Register for Games Day
Registration is required so we know how many people to accomodate and how to contact you. Registrant must be a current Mensa member. Send an email with your name, email address, local group name, number of people in total you're bringing into the game room, names of any games you are bringing, and include arrival/departure times if you need transportation from/to the Beacon Train Station (also see
Train Travel
):
Mid-Hudson Mensa Registrar
(linked email client required)
or manually send mail to this address .

Call for Volunteers
Please consider volunteering at our Games Day. We need the following:
Games manager(s)
Games leaders
Snacks/beverage managers
Train station shuttle driver(s)
Set up (very minor stuff)
Email our Local Group President
Bill Hughes
for details.
Hotel Info
The
Ramada Inn Fishkill
(link) has onsite free parking, free wi-fi, and a restaurant with bar. We'll be in one of the meetings rooms on the ground floor.
Travel Info
The Ramada Inn is located near the intersection of I-84 and US 9 on the east side of the Hudson River in Fishkill, NY. The local road and rail lines make this a convenient event to attend for many of our neighboring Mensa local groups.
Address and Map
Ramada Inn Fishkill, 542 U.S. 9, Fishkill, NY 12524
Automobile Travel
Travel by car will be mostly on highways. I-84 stretches east/west across the Hudson Valley of New York from PA to CT. It makes intersections with major north/south routes such as I-87, US 9, the Taconic, and I-684 in New York. See our
travel time table
(toggle).
Travel Time in Minutes To Ramada Inn

| Location | Time |
| --- | --- |
| Poughkeepsie, NY | 30 |
| Danbury, CT | 35 |
| Matamoras, PA | 50 |
| White Plains, NY | 50 |
| Paramus, NJ | 60 |
| New Rochelle, NY | 60 |
| New York City | 75 |
| Albany, NY | 90 |
Train Travel
You can ride the third rail to the nearest train station to the hotel. The Beacon, NY station serves the Metro-North Hudson Line that has termini at Grand Central Station and Poughkeepsie station in New York. Travelers north of Poughkeepsie can take Amtrak service south to Poughkeepsie and then the Hudson Line to Beacon. See
train travel details
(toggle).
Schedule Links and Amenities
Once you reach the Beacon station, the hotel is only 12-minutes away by car. When you make reservations for Games Day, tell us what time(s) you will arrive at the station and we'll try to arrage a pickup. If we can't get you, there are many ways to get to Games Day from the station:
Taxi services (link) are listed on the City of Beacon Transportation page.
Zipcar (link) members can reserve a car along the Metro-North line.
Restaurant Info
If our snacks aren't enough, attendees can take a meal break on their own schedule at one of the many local eateries. Open
restaurant info
(toggle).
Fishkill Grill, located inside the hotel, serves American cuisine.
Fishkill Yelp! (link) page lists eateries in distance order from hotel.
Local Sights
Maybe not everyone in your family is a gamer? Well, there is a wealth of things to do in the Fiskill / Beacon / Poughkeepsie area to keep them busy. See our
Local Sights
(toggle).
Updates and Share with Friends
Check this page for updates the day before Games Day.
Request to join our Facebook page (Mensa membership will be verified).
When you register by email, indicate your Twitter username. Then send a Follow request to our twitter feed.
Email your Mensa friends the shortcut to this page:
Games List
This section will be updated as needed with the list of
games that people are bringing
(toggle).
[none listed]
[2nd none listed]
Updated 3/20/2018
---
Mensa Select® winners from Mind Games®
Shopping through the links below earns advertising fees for our Future Scholarship Fund at no additional cost to you!
More Mensa Branded Items (link) on Amazon.