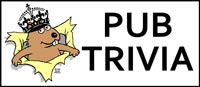 ---
Bookmark this page or copy this shortcut:
---
Pub Trivia
A roaming Pub Trivia / Dinner event is now on Mid-Hudson Mensa's calendar! In order to be accessible to more members in the region, we'll visit a different establishment every quarter. All levels of players welcome — come to play for fun or play to win. This is a great "ice breaker" for new members or for those that haven't been to an event before.
The schedule is below. You must contact the host two days before the event in order to reserve a seat. Also, the host may need to contact you in case of last minute changes.
Tuesday, March 7th, 2017: Keegan Ales, Kingston, NY
Dinner at 6:00pm with Trivia Break @ 7:00pm — Bill Zigo will host
email
Wednesday, April 26, 2017: Newburgh Brewing Company, Newburgh, NY
Dinner at 6:30pm with trivia @ 7:30pm — Southern Orange County Evening will host email
---