Reviews of select past events. More recent event reviews and images are on the Members-only site.
SOCE
August's Southern Orange County Evening (2nd Thursday) was Celtic/Folk music at the Lycian Center in Warwick. Originally a free "Lawn Concert", we were moved into the small Pavilion Theater when rain threatened. I think it worked better that way. Sitting in the second row of round tables in front of the stage, watching the performers with my fellow "M"s, it felt like a cozy cabaret. I noticed that some people had brought their own wine (must remember for next time!) and you could bring in food from the vendors right outside the doors.

"M"s at the theatre and Barnsider.
Opening act was Jamie Lynne Paradise in Celtic-inspired custom. She played mandolin, guitar and flute. Her best instrument was a practiced voice that reached into the high octaves. Between songs she made some attempts at humor (she claimed to be reading "Joan Rivers book"). Note to JLP: stick with the singing! She also fumbled a bit on stage, chalking it up to an injury from doing the "can-can" recently (that may have been a joke). It wasn't all Celtic and Folk music: inviting a friend on stage to play guitar, she attempted Emerson Lake & Palmer's "In the Beginning" to show that she could sing lower. Unfortunately she fumbled the lyric! But the guitar work was good! The audience was forgiving (we'd come in for free after all) and overall JLP came off as a lovable eccentric.
During the intermission we got free reusable grocery bags full of goodies: toothpaste & brush, letter opener, key chains - all sorts of crap - we really made-out!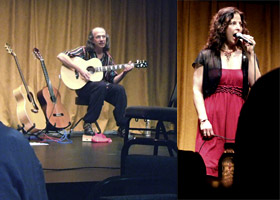 The main act was up next: Pennsylvania-based vocalist Celeste Triebeneck, accompanied on guitar by Paul Mitchell (images on right). She started out slow, with her eyes fixed on a lyric sheet, singing an Irish folksong (I guess she was breaking-in a new song). She put the lyric stand aside after that song and never referred to it again. Celeste "got into gear" and acknowledge a lot of applause between songs. Like JLP, she went out of the Celtic/Folk "box" — notably by singing Cyndi Lauper's Time After Time. Paul was great on guitar and you could see he was really into the music. Overall we can say that Celeste "brought it home".
After the show we retired to the Barnsider Tavern for dessert and discussion (coincidently, Celeste and entourage soon followed - but we didn't talk them). Among other topics, Lloyd discussed the Rocket Festival (NERRF) in Pine Island that weekend. So ....
NERRF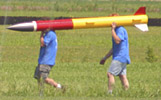 Thursday night was nice: Saturday was a blast! A lot of stuff going up, coming down - interrupted by a crazy Cessna aircraft that insisted on circling the field! There were small rockets and BIG rockets (UN sanctions on Southern Orange County!), kids and adults. And then there were the mishaps (see video) - "heads-up!" was a common reframe. There was also some unusual hardware going up: does a Pringles can belong on a launch rail (see slide show to find out). It all took place on this sod farm (nice grass) with plenty of open space for payload recovery. It also happened to be the hottest day of the year so far: next time Lloyd has agreed to setup an "M"-tent.

Thanks to Lloyd for giving us the "heads-up" on this event.
I hope you enjoy the following slide show essay and video that depicts the rockets and the people that launch them.
Slide Show on Flickr
Still images from a DSLR. Click the slide show button on the top, right-side.
Video on YouTube
The vid' is shaky — I was using the video mode on a point-'n-shoot camera. But you can start the video and listen to the audio while the slide show plays.
New Member Mixer

New Member Mixer at Chuck Whitesell's house.
Fall New Members' Mixer Review
Ten M-HM Mensans attended Chuck Whitesell's New Member Mixer. We enjoyed a classic BBQ with Eve's marinaded chicken wings for starters, followed by grill chef Chuck's serving up burgers and franks to order. The weather accommodated with a warm and sunny late summer day, and Chuck's deck was the perfect place to congregate. We relaxed in the warmth of both the day and the good company. You were missed! But don't forget our annual Winter Solstice Celebration in December. Details will be posted in the newsletter and Yahoo group, so keep your eyes open.